Looking For a Great Deal On A Great Home? We'veGot Exactly What You're Looking For!
Get the best deal on your next home before it ever goes on the market. All types of homes available, super low prices. Get Access NOW!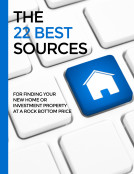 Find Your Next Home and Get Your FREE Report Here!
Complete the form on this page to join my Homebuyers Hot List. Get instant access to the best deals AND my new FREE report with the 22 best
sources for finding properties.